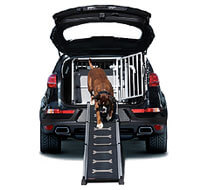 4pets ProLine Dog Crate: Drive well, arrive safely
4pets ProLine crates are proven to be one of the strongest and toughest range of dog cages in the world. Thanks to the 13 different models, the ProLine is as individual as your dog, your car and you.

Please select your car from the list below to see which cages fit in your car"